Γενική Περιγραφή Εκπαιδευτικού Προγράμματος
Study Business Psychology in Amsterdam and Haarlem
You will be trained in overall business competencies and in selected specific areas of psychology relevant to operating in a business environment.
Experience meets Entrepreneurship
The SRH Group, a leading network of independent private universities in Germany and the Global School for Entrepreneurship, a University of Applied Sciences aiming to develop tomorrow's entrepreneurs, created Haarlem Campus to bring innovation and entrepreneurship to local and international students in Haarlem. The two university operators cooperating for a particular purpose – they want to go far. And going far means leading YOU closer to YOUR dreams and professional goals.
Both, Germany as well as the Netherlands, are home to the most reputed education systems worldwide which is one of the reasons why we believe that this cooperation fulfills all the preconditions for an unconventional and successful educational journey.
Gaining a strong knowledge and understanding of human resource management, marketing, change management processes, and being able to complement digitalization with people-centered and individualized approaches.
Your course content
The study seeks to develop competencies that will allow you to be proficient in business-related competencies blended with advanced knowledge of psychology.
The study covers business-related modules including Entrepreneurship, Organizational Development, Digital Marketing, Strategic Management & Leadership, Intercultural Management, Operations and Information Management, Innovation Management, Finance, and Law.
Psychology domains cover:
Organizational Psychology
Cognitive Psychology
Social Psychology
Personal Psychology
Research Methods
Your curriculum
The program is structured around a total of 28 closely aligned study modules of five weeks during a four-year program. Frequently used teaching and learning methods include lectures, seminars, debates role plays, (live) case studies, and project development.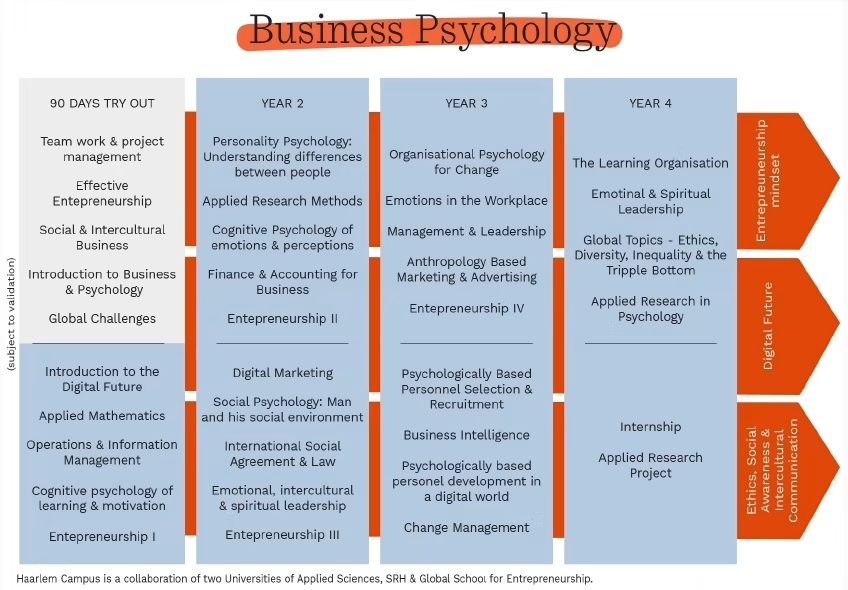 Application process
Apply online and upload your Passport, Diplomas, English Language Certificate, and Motivation Letter
If you meet the admission requirement, we will invite you to a selection interview with a lecturer
If the interview is successful you will receive an acceptance letter and the study contract
You will sign the study contract and send it back to us
You will pay the registration fee
Apply and pay for a visa if applicable
Join us at Haarlem Campus and get the journey started!
Entry and language requirements
Dutch Students:
Havo-diploma (profiles depending on the course), Vwo-diploma, Mbo-diploma level 4
International Students:
International Baccalaureate, High school diploma, General Certificate of Secondary Education, Abitur or Fachhochschulreife, Equivalent international diploma
Language requirements: IELTS: 6.0 or higher, TOEFL internet-based: overall score of 80; Cambridge certificate: CEA, CPE or FCE overall score C (169-172); Havo/vwo: pass for Englisch/Mbo-4.
Application deadline
The application deadline for the October intake will be:
August 31, 2022, for Non-EU/EAA citizens and
September 30, 2022, for EU/EAA citizens.
The application deadline for the February intake will be:
December 31, 2022, for Non-EU/EAA citizens and
January 31, 2022, for EU/EAA citizens.
With the completion of your studies, you have what it takes to become an entrepreneur, consultant, specialist, or executive in companies and not-for-profit organizations in areas such as:
Personnel selection and recruitment
Human resources training, retention, and development
Business counseling
Professional coaching
Intercultural, inclusiveness, and diversity management
Organizational development
Change management
Market and behavioral research
Marketing
Customer service and customer relations
and many more
Citizenship | EU/EAA (incl. Switzerland and Western Balkans)
EUR 6,750/year, paid by monthly installments (8 semesters)
Citizenship | Non- EU/EAA
EUR 9,900/year (8 semesters)
The monthly/semester tuition fees remain the same for the entire duration of the study program. An additional Visa application fee of EUR 450 (non-EU/EEA) is to be paid once at the start of the program.
The in collaboration established institution Haarlem Campus offers students innovative teaching and learning concepts that encourage professional and personal growth. Haarlem Campus has been established by two experienced higher education advocates. A leading network of private universities in Germany, the SRH Group, and a University of Applied Sciences called Global School for Entrepreneurship –fostering an agile, motivating, and innovative culture of learning. Decades of experience in education, research, and knowledge transfer within an entrepreneurial setting have led to optimized academic programs, designed to offer the best possible preparation for the desired field of work.